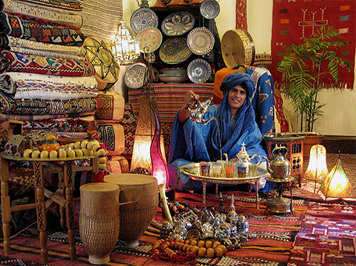 Moroccan Caravan is owned by Addi Ouadderrou, Amazigh (Berber) a native of Morocco and based in Somerville/Boston, Massachusetts, United States. The Moroccan Caravan always carries authentic high-quality arts and crafts. We care about our friends and customers, we treat them as if they were part of our family and share with them the warmth of Moroccan hospitality. We want you to get things just like the ones we use in our homes.
Please keep in mind that shopping at Moroccan Caravan means directly helpping Moroccan artists, keeping alive ancient art forms for everyone's enjoyment.
Take advantage of the specials we have offered
We adjust the shipping cost after we receive orders

We adjust so that our customers pay a friendly s/h rate based on zipcodes, especially when multiple items are combined in the same order.
You SAVE this way!
Shopping at MoroccanCaravan.com is fun and always secure
Public Hours: Wed-Sun 12pm-6pm during Winter and 12pm-7pm during Summer

Interior Designers: any day of the week during regular hours and or by appointment

We appreciate your business!
Copyright 2011 - Moroccan Caravan
Website design by Brave Mettle Inc.