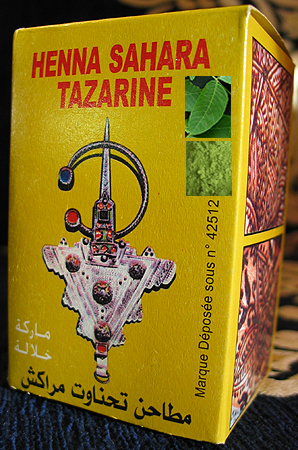 Henna Powder
5" X 3"
This is 100% natural henna and is of the finest henna from southern Morocco. This henna was finely sifted and it does not contain synthetic products. This henna can be applied on hands, feet (with henna stencil or with a dispenser cone) or on the hair. All you need to add is water to obtain a thick paste. If you plan to apply henna on hands, prepare it by adding water and little of lemon juice (2 to 3 tea spoons of lemon juice) and around 1 tea spoon of sugar. Add water little by little while mixing to obtain a thick paste (you want to be able to pick the paste with a spoon and would not drip easily like yogurt) and allow it to sit overnight at room temperature for the best results. After you have applied henna, it will beautifully dye your skin or hair.
When you see the paste applied on the body starts to dry up but before it starts to split and chip off, have some lemon juice and some sugar in a cup and suavely wet the paste design on your body using some cotton, this will allow the paste to continue to dye the skin longer and helps get better results.
If you were to use henna on hair, you will want it to be thinner (little like gravy) than the henna paste prepared for the rest of the body.
We care about quality, so please, never use what so called black henna! There is no such natural thing called black henna. If it is black or called black that tells you that something is wrong.
Our authentic natural henna is ground-up plant leaves and the powder is fine and green. If you mix the real henna green powder with water, the surface will turn brownish after few hours. These are signs of authentic henna.
NOTE: IF YOU ORDER MORE THAN ONE PACKAGE PLEASE IGNORE THE SHIPPING COST THE COST THAT WEBSITE WILL CALCULATE. YOUR ORDER IS NOT AUTOMATICALLY CHARGED WHEN YOU PLACE IT. WE WILL MAKE ADJUSTMENT AND COMMUNICATE WITH YOU WITH THE CORRECT SHIPPING COST AS WE ADJUST DOWN..

Quantity Available: 0
Price: $14.00