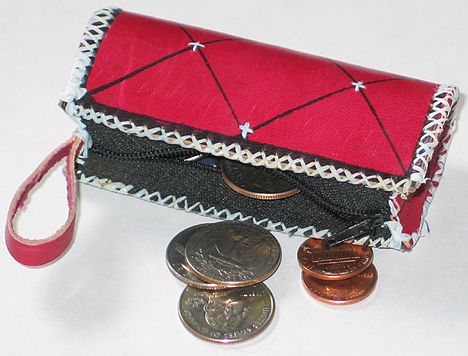 Coin Purse




















It measures aproximately 31/2 to 4 inches long x about 2 inches wide.
This coin purse is 100% handmade from leather by the Kel Tamachek (Touareg) women of the area of Agadez , northern Niger in West Africa.
The Kel Tamachek (Touareg) women are known for their beautiful leather articles that they make. We are selling these purses that were purchased directly and in person from these women in their homes to assure the money went to them.
This style of coin purses is beautiful, secure and its size is convenient to carry in someone's handbag or in the car since we all need to store coins various purposes and for parking too :)
The style is the same, the colors are the same, the work and design are the same but since the leather is hand painted, there maybe a slight difference in motifs on leather from one purse to other which makes them unique and special.
Get one or several to give relatives and or friends, they will love them especially that will know that this helps these artist women who live in the world poorest country.
Thank you for your purchase and your support!

Quantity Available: 5
Price: $10.00