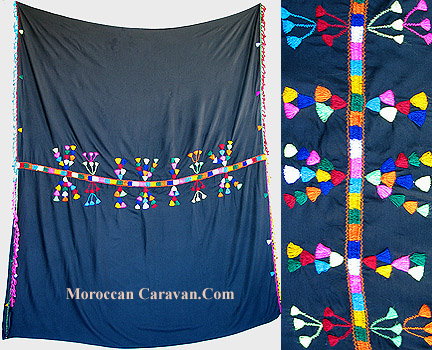 Amazigh blackTahruyt
Size: 64" x 64"
Material: cotton
Status: new.
Tahruyt is a veil that an Ait Khabbash woman covers herself with. The Ait Khabbash are Imazighen (Berbers) who live in the Tafilalet area, Southeastern Morocco. Ait Khabbash ethnic group descends from The Berber confederation of Ait Atta of the Atlas Mountains and is one of the very few groups that wear this veil called Tahruyt.
Tahruyt is made from two lengths of cloth joined selvedge to selvedge to form and almost square piece of cloth. The two pieces are attached by hand using a multicolored joining stitch, which is the central band you see on the veil also called in Tamazight (Berber) language Tanammast. The tahruyt (veil) is decorated on both sides of the middle band with multicolored paterns, hand embroidered by the Amazigh Ait Khabbash women. Two edges of the Tahruyt (veil) are adorned with tassels and sometimes sequins are added. Women place one of the selvedge edges over the center of the head: the tanammast which is the middle band runs horizontally across the middle of their back, and right side of the veil is wrapped over their left shoulder. The tasseled edge comes back around over the head and the tassels frame the woman's forehead. There are different ways of wearing this veil once it is on the body so that the face may or may not be covered. Typically, young unmarried women do not cover their faces. Generally, covering the face is reserved for married women.
To learn more about this Amazigh (Berber) veil, weddings, and other Berber arts, it is highly recommended to read the book "Amazigh Arts In Morocco, Women shaping Berber Identity" Written by art history Professor Cynthia J. Becker
You can purchase it from Moroccan Caravan.
Click on specials to the left to buy the book. Enjoy!

Quantity Available: 3
Price: $85.00