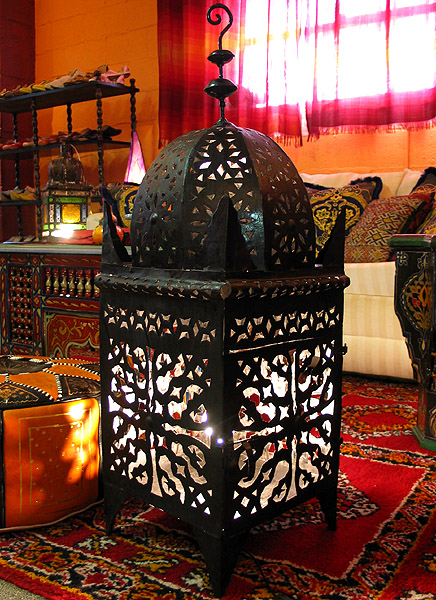 Romance punched metal Lamp




























Size aprox: 37"H X 16" x 16"
This beautiful lamp is hand made in Morocco from hammered and hand punched iron. It has an antique rust finish. It comes wired to be illuminated with up to 100 watt light clear bulb to throw intricate shadows on the surrounding walls and ceilings.
The lamp also has a switch attached to the electrical cord for a convenient use.
You could use colored bulbs too! Notice the elegant handle on the top of the lamp. This is perfect to decorate a living room, bedroom, an outdoor covered patio, an entranceway (one lamp on each side of and entrance way is fabulous)
To illuminate this with candles, you must unplug the lamp from the wall. The lamp has a door that opens. You can use the largest candles in glass jars you can fit in, one inside each corner of the lamp. The bulb stays in the middle in OFF function when using candles.
This lamp will surely add an exotic accent to your home.
Shipping cost will be adjusted (mostly reduced) based on your zip code.
Don't waist any time, get the party going!
Limited inventory!

Quantity Available: 3
Price: $395.00