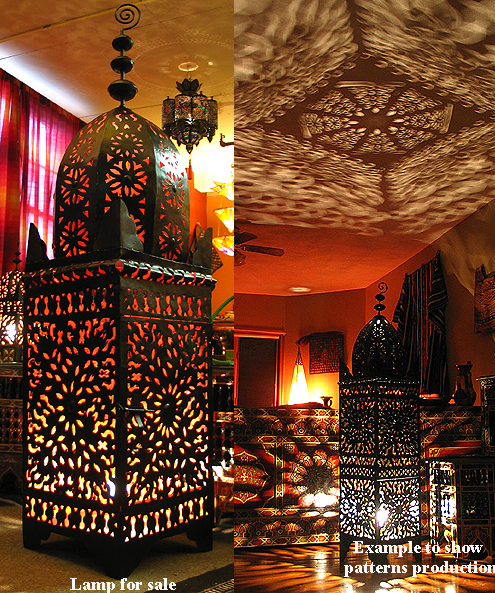 Castle Lamp
Bring the castle to your castle!
Moroccan Caravan's signature! Made to last :)
50"(67" with handle)H X 16" x 16" Sq
The handle detaches for convenient packaging and is easy to mount only using your hands.
This beautiful lamp is hand made in Morocco from hammered and hand punched steel. It comes wired to be illuminated with a clear 60 watt (included) bulb to throw intricate shadows on the surrounding walls and ceilings. If you want a softer light use a soft light bulb. Another nice thing is that you could use colored bulbs too to change from one mood to another!
The lamp also has a switch attached to the electrical cord for a convenient use.
Notice the elegant handle on the top of the lamp. Most important notice the patterns on the ceiling. Not only that these patterns are projected by this lamp on the ceiling but all around your space! This is perfect to decorate a living room, bedroom, an outdoor covered patio, an entranceway (one lamp on each side of an entrance way is fabulous), or anywhere that doesn't get wet.
This lamp also has enough space at the base to place in your preferred scented candles that are in clear jars, recommended (not included). So if you decide you want to use candles, swish off the bulb from the provided swish or unplug the lump from wall and use your candles to enjoy the flickering!
This lamp will surely add an exotic accent to your home. Also think about accompanying this lamp with some other smaller sizes lamps in the same style!
Shipping cost will be adjusted (often reduced) based on your shipping address.
Don't waist any time, place your order and plan the party !
Limited quantity!


Quantity Available: 2
Price: $1,200.00