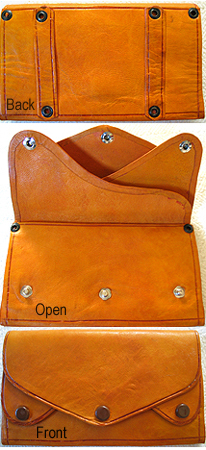 Burnt orange Moroccan Wallet $5 Off
Was $20.00 and now it is $15. You save $5.00
This wallet is 100% handmade in Morocco from genuine leather. This wallet has 5 compartments. It fits very well in purses, pockets and or it could be attached to a belt.
This wallet measures 6" L X 3 ½" W.
Also, it is available in burnt orange color. If you want the burnt orange colored wallet please mention it under comments after you have added this wallet to cart and you are checking out.

Quantity Available: 2
Price: $15.00