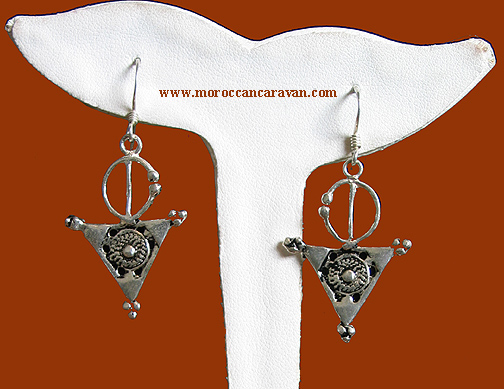 Fibulas earrings ID #592
These earrings are handmade in Morocco from silver. These earrings are designed after the Amazigh (Berber) fibulas. Fibulas were practical, holding a woman's wrapped toga-like garment together at her shoulders. The triangular portion of the broach is also believed to protect from the evil eye and were delicately carved with geometric and floral motifs. Among Imazighen, the native people of Morocco and North Africa, the fibulas are one of the ways to identify the ethnic group that the wearer comes from. These earrings are for everyone who loves and respects the Amazigh culture. They truly show the Amazigh (Berber) silversmith's skills. They are light and exotic and Special!
These earrings ship international through the United States Postal Service for $15.00 US dollars. International shipping cost will be adjuted after you place and we successfully received your order.
Quantity Available: 1
Price: $25.00