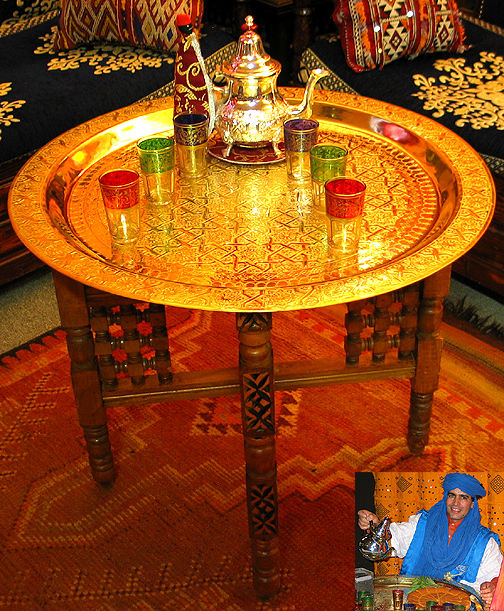 Brass & Wood Tea Set
This great tea set was chosen by Moroccan Caravan and especially made for Moroccan Caravan. The set includes a finely hand shaped and engraved brass tray with intricate motifs by a skillful craftsman in the medieval city of Fes, Morocco 27" in diameter. The set also comes with a very nice and sturdy wooden stand 23" high with beautiful arabesque decoration also called musharabi work, 6 tea glasses in red, green and blue, the set also includes a silver teapot, under teapot and teapot holder. The teapot can be cleaned using a silver cleaner or you can try Wright's Silver Cream and brass with brass cleaners found in any hardware store. Check out our culture & recipes for a free Moroccan tea recipe.
Ships UPS ground.
Please Note that shipping cost is subject to adjustment, up or down, depending on zip codes. this is done after we receive your order.

Quantity Available: 1
Price: $460.00