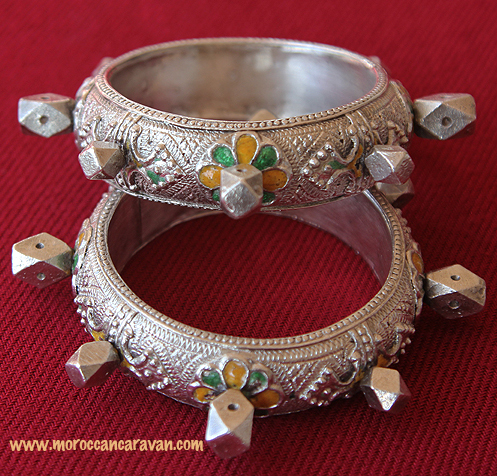 Collectible Enamel bracelet set
Sold as a pair.
Dimensions in inches:
Width: ¾"
Interior diameter: 2.1/4"
Exterior diameter without including knobs: 3" & with the knobs 4"
Interior circumference: 7"
Status: Antique
This pair of antique silver Berber bracelets would have been worn by the Ida Outanane and the Ida Oultit Berber women in the Anti-Atlas region of southern Morocco. Each bracelet has pointed projections that radiate out. They also have rosettes carved on the surface that are filled with bright amber and green enamel. Every surface of the bracelet has beautifully carved detail. They are in perfect condition and are definitely museum pieces. These would have been made by a Jewish silversmith and are no longer being made in Morocco today.
One of a kind!!
Free S/H and Insurance!

Quantity Available: 1
Price: $380.00