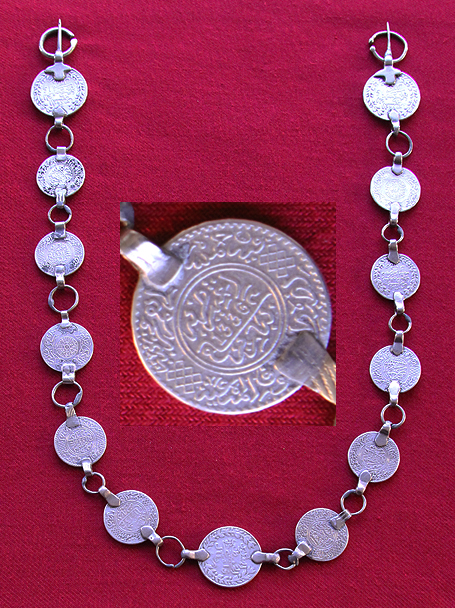 Collectible Ziz coin fibula
Origin: Morocco.
Size in inches:
Overall Length: 32" inches
Fibulas/broches: 3.1/4" x 1.1/2"
Status: Antique
Technique: Hand made
This collectible fibulae set is a very rare piece that would have been worn by Amamzigh (Berber) women from the Ait Isfoul group from a village named Tihidrine in an area called Rteb (an area in the Saharan oasis of the Tafilalet). It is made from 13 antique coins. See the book Coiffure Feminines du Maroc pg. 32 for an early 20th century photo of a woman wearing the same fibulae. The most recent piece that makes this Fibulae dates to 1917 (1336 on the Islamic calendar).
Free Shipping and Insurance!!
Quantity Available: 1
Price: $2,100.00