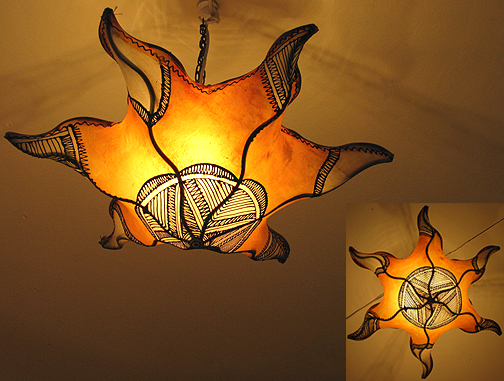 Star Henna Lamp ID #816
What a beautiful home décor piece! This lamp is handmade from leather stretched over a metal frame. The leather is then colored and hand painted with henna designs (henna is a natural plant dye). This lamp hangs as a chandelier. It comes with electrical accessories, socket, wire and one soft white compact fluorescent bulb is included, if you desire, you could use a colored fluorescent bulb if you desire to reduce the light and create a different ambiance. Allow 3 inches between the bulb and the bottom of the lamp to prevent the skin from over heating. If you can't hang it from ceiling, it can also be hang from a bracket that mounts on the wall and an electrical cord (not included) could go all the way to an outlet at even a lower level by the floor.
20"Diameter x 6" in Deep (excluding the length of the chains that the lamp hangs with)
Get this lamp and add an exotic accent to your home!

Quantity Available: 1
Price: $75.00