Addi's Moroccan Couscous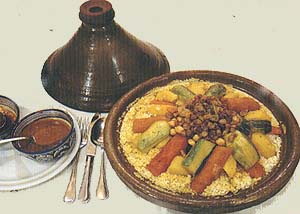 Couscous, the national dish of Morocco, is technically not a grain (although it will be referred to by the term "grain" in this recipe. It is made with water and flour that is hand rolled, so it is actually rolled pasta. Traditionally, it is steamed over a pan of stewing vegetables, spices, garbanzo beans, and your choice of meat. The word couscous refers to the wheat pasta as well as to the prepared dish with sauce and vegetables. There are numerous ways to make couscous that vary from region to region. The following is my own special recipe for couscous with lamb and vegetables.
How to Cook Couscous
(6-8 servings)
4 cups couscous
3 cups water
Place couscous in a bowl and sprinkle with a cup and a half of water to thoroughly wet the couscous. Stir with your fingers to keep clumps from forming as it absorbs the water. Place couscous in a couscoussier, a two-part steamer with a steamer pan on top. The large bottom pot traditionally holds a stew that steams the couscous as it simmers. I suggest that you boil water in the steamer and cook the sauce separately, since this makes the process less difficult.
After the couscous steams for 30 minutes, take it out of the steamer pan and sprinkle olive oil on it while stirring to separate the grains and get the oil to coat each grain. Put water in the pot of the couscoussier. There should be ample liquid in bottom of pot but it should not come too close to bottom of steaming basket. Then steam the couscous for another 30 minutes. If the liquid in the bottom pot seems low, you should add more. When the couscous has finished cooking, separate the clumps. The texture of the grain should be fluffy. Couscous is placed on a plate and then topped with stew.
Couscous Sauce
2 pounds lamb shoulder
2 tablespoons olive oil
2 onions
1 clove garlic (diced)
1 pinch saffron
1 teaspoon pepper
1 teaspoon ginger
1 teaspoon coriander
1 teaspoon cumin
1 teaspoon turmeric
1 teaspoon paprika
Salt to taste
4 cups water
3 fresh tomatoes
6 peeled carrots cut in halves and into 3-inch pieces
4 zucchini, unpeeled and quartered
1 red bell pepper
(Other vegetables can be added, such as squash and cabbage)
1 15 oz. (425 g) can of chickpeas
Wash and carefully cut meat into pieces. Heat the oil and brown the lamb on all sides for 5 minutes. Add the onions and garlic, and cook another 5 minutes. Lower the fire and add pepper, ginger, coriander, cumin, turmeric, paprika, salt, and 4 cups water. Cook for 5 minutes, stir, and add carrots and tomatoes. Cook for 10 minutes and add zucchini and red bell pepper. At this point, the stew should be cooked slowly for an additional 25 minutes until the meat is tenderized. Add chickpeas 5 minutes before the stew is finished. Check the stew from time to time and add water if needed.
Optional Caramelized Onion Topping for Couscous:
4 onions (sliced thinly)
2 tablespoons olive oil
½ cup raisins
¾ cup of brown sugar
1 teaspoon ground cinnamon
While you are cooking the stew, you can prepare this topping. Cook the onions in a skillet with olive oil until they soften and start to brown. Add raisins, brown sugar, and cinnamon and keep stirring to caramelize the onions. This makes a delightful topping.
Presentation:
Place the couscous in a big dish. Place the meat and the vegetables and some additional sauce on top. The caramelized onion topping can be added to the center. Serve the surplus of sauce in a side bowl so that everyone will be able to add some if desired.