Testimonials: Moroccan Caravan in Magaizines
944 Magazine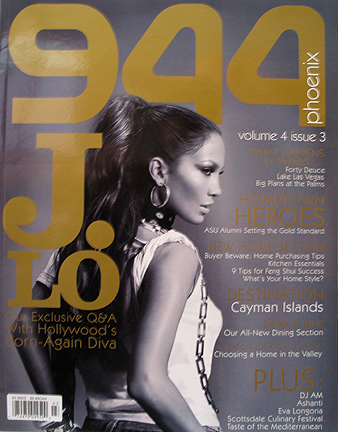 944 Magazine
April 2005: Volume 4, Issue 3, page 56
HAUTE HOUSE: Arabian Nice – Rock the Casbah
By Rachel Hawkinson
It's no secret that import-themed home furnishings have swept through the interior design world. Five years ago everyone wanted to infuse their rooms with the African safari, from zebra pillows to oblong tribal masks to vases filled with faux banana leaves. Then the Asian theme took over for the better part of the new millennium. You couldn't step into a home boutique without being bombarded with bamboo, soothing green palettes or paper lanterns. Although these styles still permeate the market, it's the Moroccan theme that has emerged as the new import trend.
Since Morocco is the gateway to Africa with influences of Europe and the Middle East, it's the melting pot of so many different styles and cultures. "Morocco is one of the few countries in the world with a strong artisan tradition that has remained intact since the Middle Ages," says Addi Ouadderrou, owner of the online import store Moroccan Caravan.Com. The result is a design style all its own.
When decorating with a Moroccan theme, the best way to start is by adding brisk, energetic colors to different rooms of your home. Think deep reds, marine greens and ocean blues; colors that would be found in the busy markets of Marrakech. Also, desert-related colors such as rich golds, beiges, amber-toned yellows and deep silvers make up an attention-grabbing palette. Whether you choose to paint your walls these colors, create borders or accents, or hang tapestries, there are numerous simple ways to bring the Moroccan style into your house.
"Moroccan can be labeled as 'more is better,'" says Sass Buick, manager of the home section at Objects. "[Mix and match] silk pillows, fabulous tassels and brightly painted bowls filled with silver beads. Ideally, it's a celebration of the senses."
Think of your home as a sultry lounge in the Sahara, add brightly-colored floor pillows, hang brass lanterns and take a toke or two on the hookah (sure it's flavored tobacco). You'll be transported in no time.
To accent such a rich atmosphere, bring nature indoors with hanging plants and different species of exotic flowers. You can also lay terra cotta tiles and texturize your walls with colorful Arabic stencils. Lighting is always a good way to influence the mood in your home, so place diverse light fixtures around the house, either chandeliers or tabletop lamps. Moroccan style is about ornate intricate designs, and the best way to bring this into your home is through door accents. Pick out a door made of a rich, dark wood, and if you feel creative, carve different designs into it. If you don't feel confident doing it yourself, purchase hand-carved doors at authentic Moroccan import stores such as Moroccan Caravan at www.moroccancaravan.com or locally.
Top your new décor with spicy, ginger-scented candles, preferably pillar-shaped, that will make you feel like you're in a crowded street surrounded by the scents of exotic spices. Try these easy tips when redecorating your traditional home, and you'll have the deepest, richest home on the block. But with this style's growing popularity, jump on the bandwagon now, or you'll certainly be left in the dust.